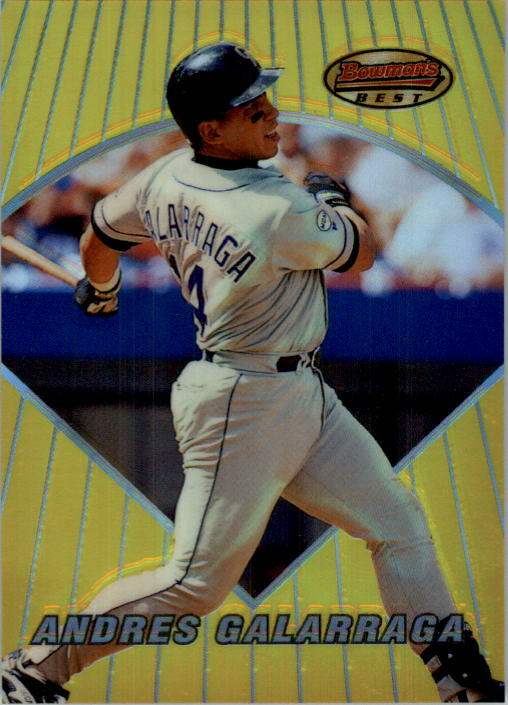 While researching my latest post, I came across a name that loomed large in my childhood, about whom I haven't thought in a long time. Andres Galarraga is probably, at this point, the second-most-famous "A. Galarraga" in your baseball encyclopedia/brain. But while Armando may be more famous today, the Big Cat belongs to a couple specific groups. I'm hoping you can figure out what they are in these trivia questions.
Note: I've never done one of these trivia things before, as you know, so they're not going to be as hard or clever as Doug's… or maybe they'll be too hard. I genuinely don't know, but I hope it's fun either way.
In each case, I'm going to give you a set of players with whom Andres Galarraga belongs in a group.
Q1. What multi-season accomplishment do these players, and only these players, share? SOLVED by Doug.
Babe Ruth
Jimmie Foxx
Andres Galarraga
Alex Rodriguez


Q2. A little more esoteric. What career-based accomplishment do these players, and only these players, share? SOLVED by Paul E.
Babe Ruth
Tris Speaker
Joe DiMaggio
Johnny Mize (the other "Big Cat")
Hank Aaron
Eddie Murray*
Andres Galarraga
Barry Bonds
Alex Rodriguez
Manny Ramirez
Albert Pujols

*sort of; it's complicated – and that's maybe the best clue I can give you.
Pretty incredible company, eh? I mean, it's safe to say that Galarraga is, by a WIDE margin, the worst player on either of these lists. That said, there are worse things than being the worst player on a list like these. So, do you know the answer to one of these trivia questions?
Note: The P-I at Baseball-Reference is free to everyone for a short while, and the first of these lists IS verifiable on the P-I. The second, I had to do manually.