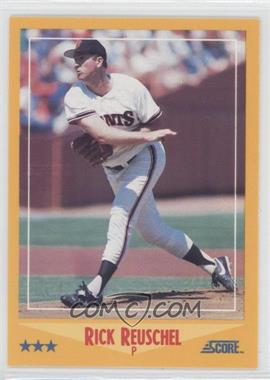 It's been some time since I wrote a "Let's Talk About" piece. This time I bring you a pitcher who WAR would have you believe is perhaps the most underrated player in Major League history.
Let's talk about Rick Reuschel.
Now, first let's acknowledge the sniff test. When Rally first made his WAR spreadsheets available (it later became Baseball-Reference WAR), Reuschel ranked surprisingly high. I had never once considered Reuschel for the Hall. Even after some major revisions to Rally's original WAR formula, Reuschel still ranks 32nd all time in pitching WAR and 97th overall. The Hall of Stats adjusts WAR with more emphasis on peak value. Reuschel rankings:
99th among all players in history
85th among players eligible for the Hall of Fame (84th if you remove Pete Rose)
30th among all pitchers in history
23rd among all pitchers eligible for the Hall of Fame
13th among eligible players not in the Hall of Fame
6th among eligible players not in the Hall of Fame who are not currently on the ballot, behind Pete Rose, Lou Whitaker, Bill Dahlen, Bobby Grich, and Kevin Brown (again, fifth if you don't count Rose)
According to WAR and the Hall of Stats, Rick Reuschel was a top 100 player. That was—and still is—a revelation. When I create lists of the best players outside of the Hall, I still hesitate a bit before listing Reuschel's name. So, what gives?